March is Colorectal Cancer Awareness Month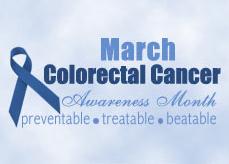 Colorectal cancer is the second leading cause of death among cancer in the US. Overall, the lifetime risk of developing colorectal cancer is a little less than 1 in 20 (5%). Regular screening can prevent many cases of colorectal cancer altogether by removing polyps. Screening can also help find colorectal cancer early when it is small and has not spread to other parts of the body. Colorectal cancer is easier to treat when it is caught early. When caught before it has spread to other parts of the body the 5 year survival rate is about 90%. Only 4 in 10 colorectal cancers are found at this early stage when the cancer has not spread outside the colon or rectum. When the cancer has spread outside the colon and rectum, the survival rate is lower.
Screening for colorectal cancer for men and women starts at age 50. There are 4 screening tests that are used to screen for colorectal cancer, as follows:
• Guiac based fecal occult blood test (FOBT)
• Sigmoidoscopy
• Barium enema and
• Colonoscopy
A new screening test called Fecal Immunochemical Test (FIT) has recently been approved and may be more accurate than the FOBT for identifying polyps and early colorectal cancer. Your doctor will need to order the colorectal screening test that is appropriate for you based on your medical and family history starting at age 50.
Reference: American Cancer Society and cancer.gov