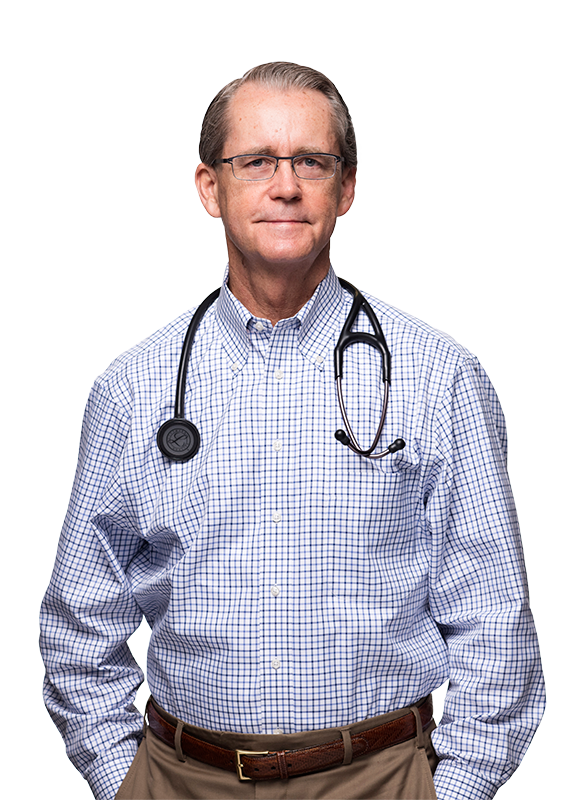 Dr. Mac Barnes, III
Founding partner of the Montgomery Cancer Center (MCC), one of the first free-standing Cancer Centers in the country. Instrumental in the design and development of MCC, Dr. Barnes served as President from 1990 to 2006.
Ashley Rhye

Ashton Jerkins

Katie Sheridan
Main Office
4145 Carmichael Road Montgomery, AL 36106
Dr. Barnes is board certified by the American Board of Internal Medicine in both Internal Medicine and Medical Oncology and has practiced Hematology and Medical Oncology in Central Alabama in his hometown of Montgomery, since 1981.
He graduated from the University of Alabama where he was a member of Omicron Delta Kappa (ODK) Honor Society, and served as the first student president of The New College.
Graduating from the University of Alabama in Birmingham (UAB) Medical School, Dr. Barnes was a member of Alpha Omicron Alpha (AOA), the National Medical Scholastic Honor Society. He completed his Internal Medicine Residency and Oncology/Hematology Fellowship at the UAB School of Medicine.
He is an Associate Clinical Professor of the University of Alabama (UAB) School of Medicine.
A member of the Alabama Society of Clinical Oncology, he served two terms as State President.
He served four years on the American Society of Clinical Oncology (ASCO) Clinical Practice Committee and is a member of the Advisory Board of the International Oncology Network.
Dr. Barnes is a former Medical Director of Baptist Hospice and has served on numerous hospital committees.
His professional affiliations include The American College of Physicians, The Alabama State Medical Society, the Montgomery County Medical Society, the Alabama State Clinical Oncology Society (Alabama Cancer Congress) and the American Society of Clinical Oncology.
Dr. Barnes is a general Medical Oncologist whose clinical interests include breast cancer, lymphomas, leukemias and myeloma. He is the sole physician in central Alabama who is a Diplomat of the American School of Breast Oncology.
In 2008, Dr. Barnes served as President of the Community Oncology Alliance (COA), a non-profit organization which represents Community Oncology Centers nationwide. He currently serves on the COA Executive Committee and has been on the COA board since 2004 where he remains actively involved as a tireless advocate for cancer patients and for meaningful change in public policy relating to the delivery of cancer care.
Dr. Barnes has been named one of the "Best Doctors in America" in the field of Oncology, for 16 consecutive years, from 1996-2012. Compiled by Boston-based Best Doctors, Inc., the Best Doctors in America database is the result of an exhaustive survey of more than 40,000 physicians in the United States. Only those doctors recognized to be in the top 3 percent of their specialty earn the honor of making the list.
Dr Barnes has lectured on both local and national levels. His most recent presentation, "An Update on Non Hodgkins Lymphoma" was presented in February 2011 at The Montgomery Cancer Center Grand Rounds.
Appointed by Governor Fob James, Dr. Barnes served as the Physician member of the Alabama Department of Environmental Management (ADEM), in the late 1990's.
Dr. Barnes interests include wildlife management, tree farming, aquaculture, and fly fishing. He enjoys cooking gourmet wildlife cuisine for his family and friends.
Dr. Barnes has three sons with whom he shares his interests in outdoor activities, golf and music. He attends First United Methodist Church, where he serves on the Administrative Board.
Dr. Mac Barnes, III works with