Bringing Cancer Screenings & Education Where They're Needed Most
Driving HOPE Mobile Health Clinic
Addressing the healthcare needs of residents in twelve mostly rural counties, this new 37-foot mobile unit will provide underserved communities with life-saving cancer screening services. Staffed with Montgomery Cancer Center and Baptist Health professionals, this state-of-the-art mobile unit will perform screenings, outreach, prevention, and education.
Driving Hope Staff also offers patient navigation services that manage treatment plans and foster a caring environment. The Driving Hope Mobile Unit will also be available for over 150 annual Baptist Health community events. Please consider a donation to help fund the fight and drive HOPE!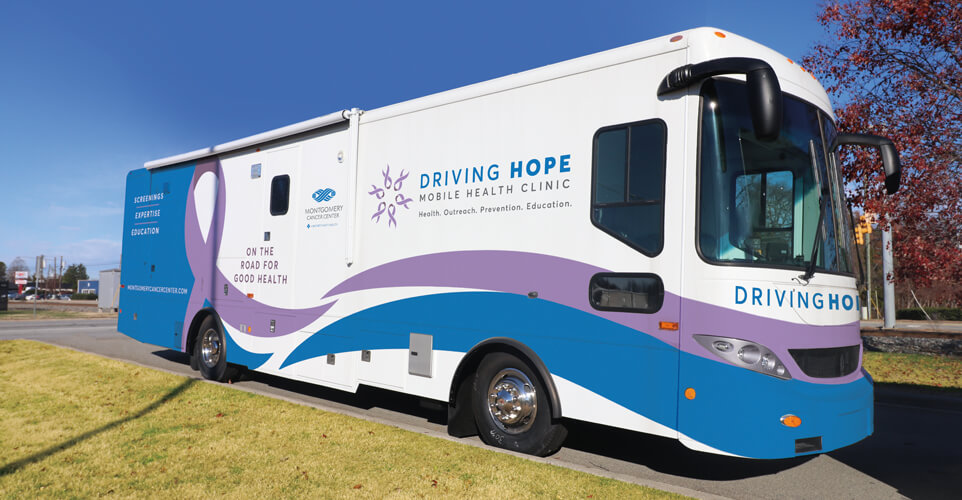 Gratitude—it's a powerful expression of the heart.
Grateful Patients and Families Program
It is an incredible privilege to care for you or your loved one and share in your journey here at Montgomery Cancer Center. There are dozens of ways that members of our care team make a difference in the lives of our patients. We hear about them every day. That's why we established the Grateful Patients and Families Program, which allows individuals and their families to formally recognize the exceptional care received here. Your donation is a meaningful opportunity to say "thank you."
At the same time, your generosity will enhance the experience of future patients in need–by helping fund medical treatments, testing, transportation expenses and more, while maintaining Montgomery Cancer Center's proud hallmark of world-class, personalized care. If you've been touched by our care team, please pass the gift along with a donation. Your contribution will pave the way for new avenues of healing, hope and benefit others in need.