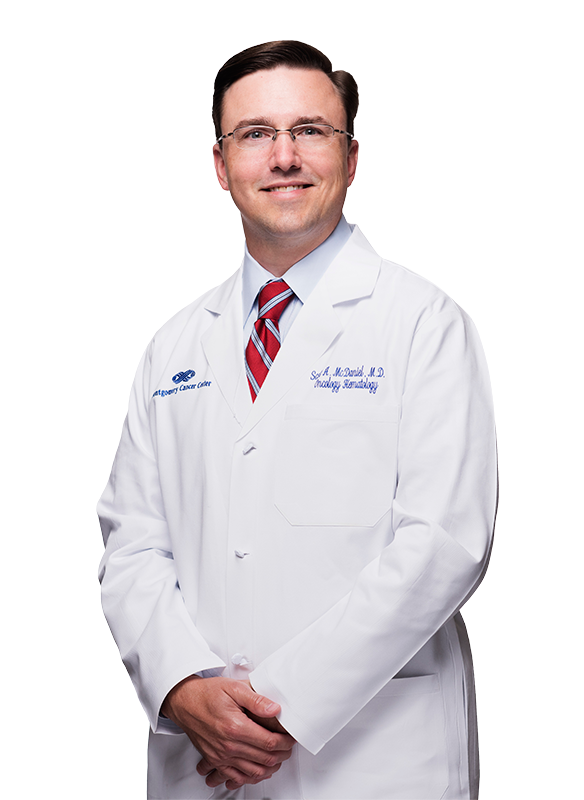 Dr. Scott A. McDaniel
Board certified in internal medicine and medical oncology, as well as a partner at Montgomery Cancer Center, Scott A. McDaniel, M.D., joined the team at Montgomery Cancer Center in 2006.
Renee Warren

Ashley Mann

Sarah Passmore
Main Office
4145 Carmichael Road Montgomery, AL 36106
Dr. McDaniel, a native of Birmingham, was a Carrier Scholar and graduated summa cum laude from the University of Mississippi in 1996.
Dr. McDaniel attended the University of Alabama School of Medicine, where he was a Peacock Teaching Scholar and graduated with Alpha Omega Alpha Honors. He stayed at UAB to perform his internship and residency in Internal Medicine and was selected as Chief Medical Resident and Instructor of Medicine. During that time, he also held the position of associate editor at WebMD Scientific American. He completed his fellowship at UAB in hematology/oncology in June 2006, and was named Outstanding Clinical Fellow and Outstanding Clinical Research Fellow.
Dr. McDaniel has practiced medical oncology and hematology at the Montgomery Cancer Center since 2006 and is board certified in Medical Oncology. He is a member of both the American Society of Clinical Oncology (ASCO) and the American Society of Hematology (ASH).
Dr. McDaniel currently serves as the Committee Chairman for the Montgomery Cancer Center's Commission on Cancer Program. The program received full accreditation in 2017, and has been recognized with commendation from the American College of Surgeons. The Commission on Cancer (CoC) certifies cancer care programs for their commitment to providing comprehensive, high-quality, and multi-disciplinary patient-centered care. The CoC is dedicated to improving survival and quality-of-life for cancer patients through standard-setting, prevention, research, education, and the monitoring of comprehensive quality care.
Since 2015, he has served as a board member of the Alabama Cancer Congress (ACC). The ACC focuses on education, as well as advocacy, for oncology specialists in the state of Alabama.
Dr. McDaniel is an Associate Clinical Professor for the UAB School of Medicine, and lectures to UAB residents and medical students at the Montgomery campus. He also mentors residents in training on month-long clinical rotations through the Montgomery Cancer Center. In addition, Dr. McDaniel has been instrumental in the initiation and success of Baptist Health's Cancer Conferences, a weekly conference aimed at providing a multi-disciplinary review of oncologic cases.
A member of First Baptist Church in Montgomery, Dr. McDaniel is married to his wife Ashley, and they have two children, Drew and Caroline. The McDaniels are active supporters of the Cancer Wellness Foundation of Central Alabama, the American Cancer Society-Vintage Affair, the Fellowship of Christian Athletes and the Jimmy Hitchcock Award. Dr. McDaniel enjoys golf, fishing, reading and spending time with his family.
Dr. Scott A. McDaniel works with